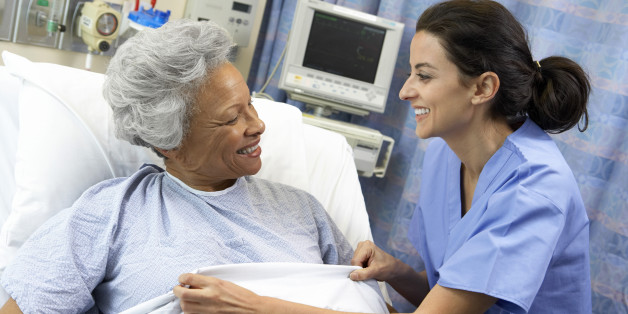 When you don't see me, it doesn't mean you aren't on my mind. Often times I leave your side begrudgingly, at best. Perhaps I'm being forced to take five or grab a snack by a fellow nurse down in the trenches, that sees my jaw is tightened and my eyes, entranced. Maybe I'm rummaging through a compartment filled with medications to protect your body, ease your pain, calm your anxiety, or increase your dangerously low blood pressure. I might be double checking a policy for a procedure that I must conduct; recruiting a hand to help turn you, bathe you, or reposition you; or confirming with a physician what the plan is for your care.
When you don't see me, I am still there. I might be tied up with another patient or family member. Sometimes, if you're well enough to notice that I'm missing, I am being forced to dedicate my time and energy to another patient who is struggling in some way. There are moments in my world when hearts stop beating. Sometimes, lungs stop breathing. Kidneys fail and infections prevail and sometimes, 'alive' means just barely hanging on. I hope to keep you unaware of that shearing thread, but I promise: if you were in their shoes, I would hold it taut from end to end.
When you don't see me, I don't want to ignore your requests — I promise that I think of you while I'm caring for others. I cannot always offer you water to drink or a bite to eat because of reasons beyond my control. Not only am I here to assess your pain and your body and your vital signs, I must also make certain that every thing you do is safe. Call me a goody-two shoes, 'Nurse Ratchet,' or overprotective: I won't budge on your well-being, despite your complaints. With intensive care comes aggressive scrutiny. But your new room might not be ready. I've probably already paged your doctor. And I've called your family twice to ask them to bring your glasses. Please be patient with me — especially when you don't see me.
It's often as though I function with two brains: one dedicated to the task at hand, and another that concentrates on what is yet to be completed. My to-do list grows as the moments tick by, and suddenly 13 hours have flown and I am down to the wire. There is so much that I wanted to do for you — so very much I wanted to give — yet the day has escaped me and I must concede to my relief. I try to take pride in my checklist, but many times feel failure all the same — one person can't do it all; can't fix it all; can't kiss boo-boos and make everything right. I'll be damned if I didn't wish that's the way it worked some days.
When the paperwork is finally finished, thanks to a push from a granola bar and stale cup of coffee, I swipe my badge but cannot quite 'clock out.' I lean against a rusted locker, fielding my belongings while I attempt to collect my thoughts. That's when the questions and queries begin.
When you don't see me, while I'm driving in my car — some days blaring the radio to block out the past, others riding in stillness to silently reflect — I carry you with me.
When you don't see me, stepping into my home, stripping out of the shift's worries and into my own — I carry you with me.
When you don't see me, questioning what happened and why; whether I could have done better to help you survive — I carry you with me.
When you don't see me, tear streaked and red, filled with pain for your family, children, and friends — I carry you with me.
I carry you with me, whether you know it or not, because while I want desperately to leave your story at the door, I can't help but hear the pages echo in my heart.
I carry you with me, as a trophy or a scar, because that experience forces me to power through the days when all I want to do is throw in my stethoscope and walk away. For scars often fade while trophies are proudly displayed; but sometimes the quietest moments and simplest interactions are the most often replayed.
When you don't see me, I am fighting for you.
When you don't see me, I am rooting for you.
When you don't see me, I am praying for you.
And sometimes, when you don't see me, I am mourning for you.
I carry you with me. I am your nurse. So when you don't see me, please know that I'm near. Your life is my responsibility — your livelihood, my pride. We carry you with us: on scribbled notes in pockets, through aching within worn bodies — forever in our minds.